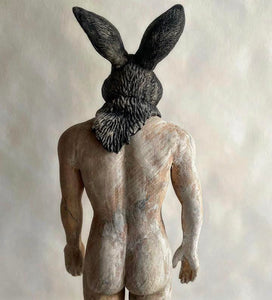 what exactly am i doing with these new clay figures appearing on my worktable? .. where do they come from? .. where do they want to go? .. i sometimes question the imagery that holds my attention .. why this particular human/bunny figure? .. then i let go of the questions and the pressure to answer and simply go with the flow .. i let the clay and the imagery move me .. piece by piece let it become itself .. when it works it works and when it doesn't it usually because my questioning gets in the way .. always looking for answers .....
---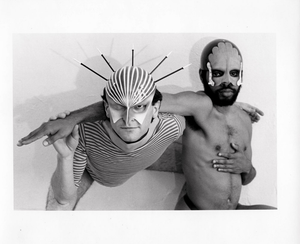 this image combines both my ceramic art and my early days of performance art 1978 into the 80's . i'm pictured here with ishmael houston jones as part of our queer performance art troupe "two men dancing". a tad ahead of it's time . pre queer theatre trend . pre performance art college majors . late 70's into the 80's we were making autobiographical performance work with clay masks and props and original music by dan martin . the three of us queer activists exploring visual art and dance theatre performance art . each of us sharing our personal history on stage . this time in my life both opened doors and...
---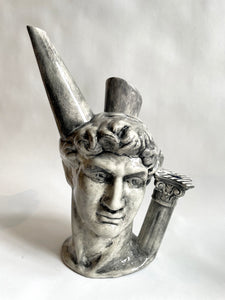 this is a new teapot from my tea w/david series . each teapot in this series has a one of a kind detailed surface . this particular one incorporates a roman column handle with a gloss glaze that brings out the glowing character of david . there are a few black and white stripe details on the column and top of teapot lid . all  part of my obsession with black and white stripe . i use this classic pattern in many of my art  pieces and include it whenever/wherever i can . as an italian american artist i feel a connection to this character . i use david's grace...
---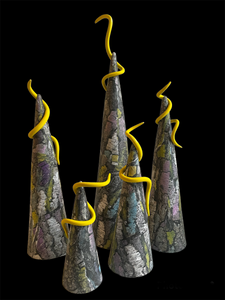 i created these ceramic pieces as part of an art commission for an installation by @petitjardinenville @thephiladelphiaflowershow ... they are bark paper collage applied to ceramic slip cast cones with yellow clay coil twirls ... the installation was a magical landscape moving from winter to emerging spring to electric spring ... i hand made approximately 30+ cones that were delicately placed throughout the landscape ... the show ran for one week with thousands of viewers experiencing the beauty of nature .. and clay .. earth .. it was a delight to work with this brilliant group of creatives including a musical soundscape by dan martin with dancer megan mazarick ....